Is your team remote? Hybrid? Mixed?
An office in the metaverse can help your team feel more connected and interact naturally. A metaverse office enables you to build your team culture, combining planned and random interactions, perform heads-down work, hold standups and meetings – and even enjoy hijinks.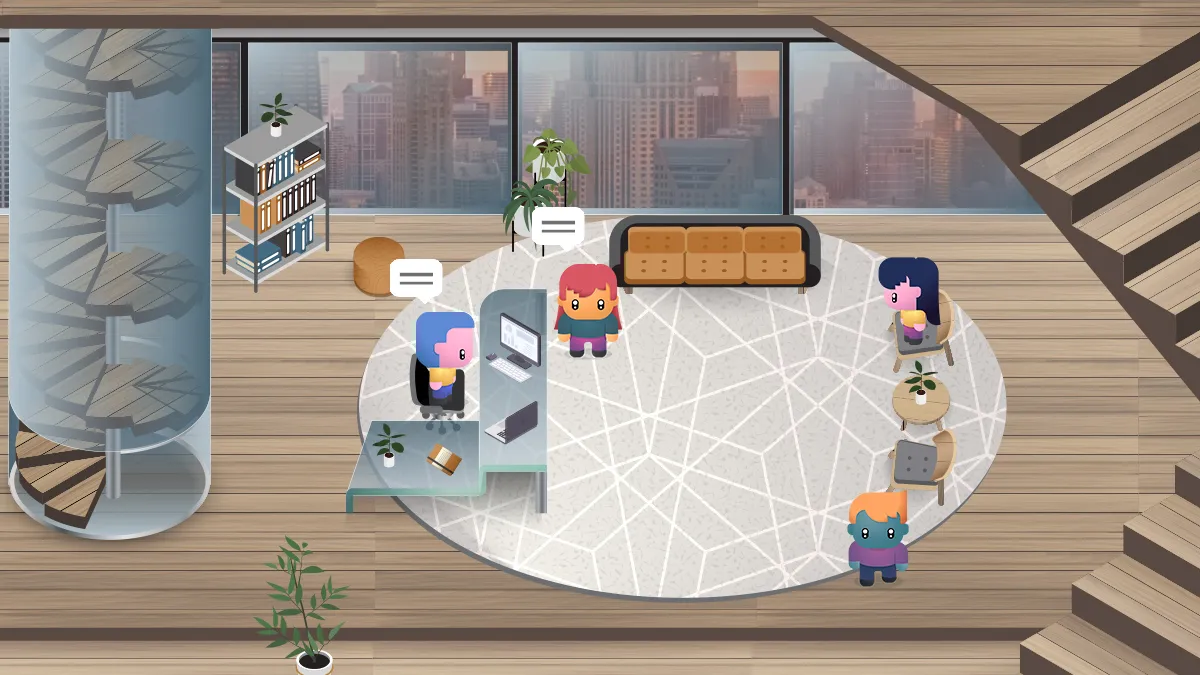 Offices
Whether you are a team of 1 or 100s, we can help you move to the metaverse in record time, by selecting options from our model office collection. Add conference rooms, a showcase lobby – project rooms, labs and workshops – even a spa or pool to make the experience your own. If you have an ideal environment you want custom built, talk to us. We've built custom environments for many groups, from Merck KGaA to Google.
Uncork-it creates immersive events, offices, and conferences in the metaverse—with no special headset needed. Colleagues and friends from around the world can enjoy natural interactions, gorgeous architecture, and the ability to mingle naturally, moving in and out of different conversations seamlessly.
Explore our office models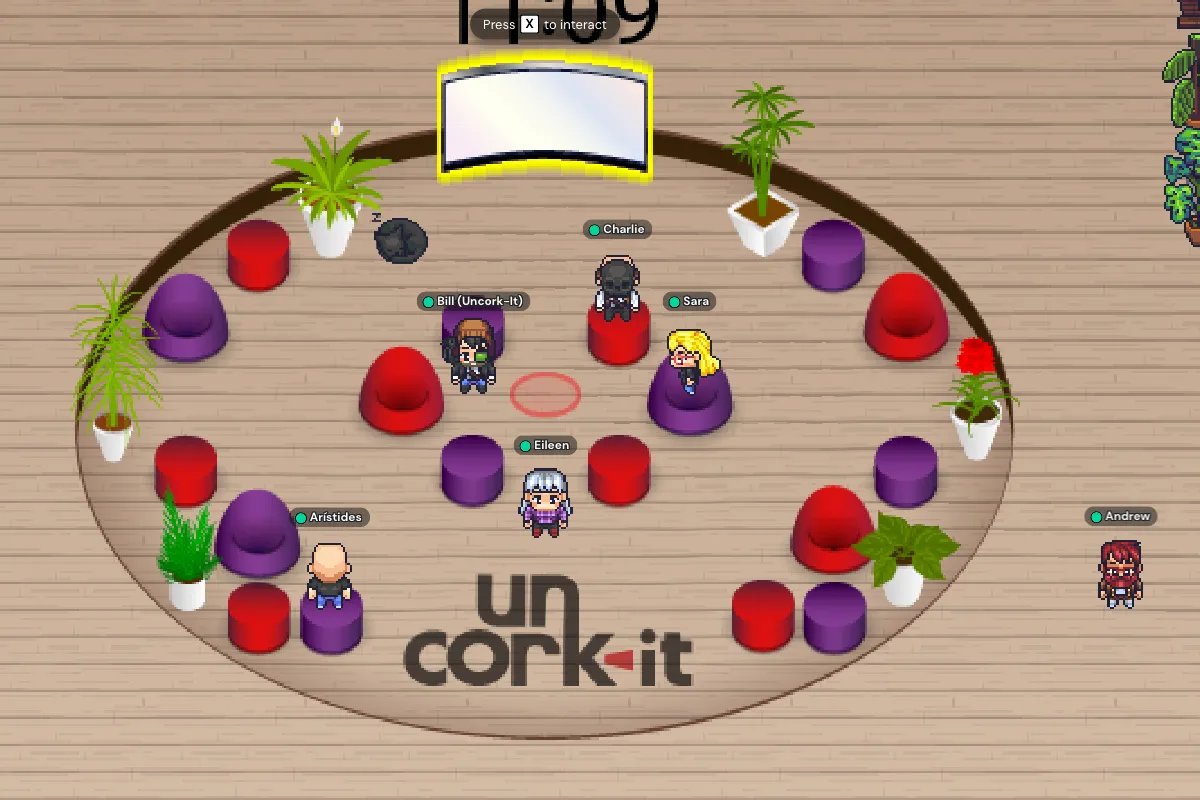 Uncork-it office park
Join Uncork-it in our office park! You can have a whole building or rent space in a shared building. This can help provide that downtown experience, where you can mix with people from other organizations. A lunch-time stroll near the river can introduce you to some fascinating people! It's the very act of interacting with people who do not share your goals or experience that sparks the creativity needed for true innovation.* The Uncork-it office park provides monthly activities to encourage workers to get out and mingle.
*Steven Johnson, Where Good Ideas Come From, 2010 Riverhead Books, New York, New York.
Check out our office park.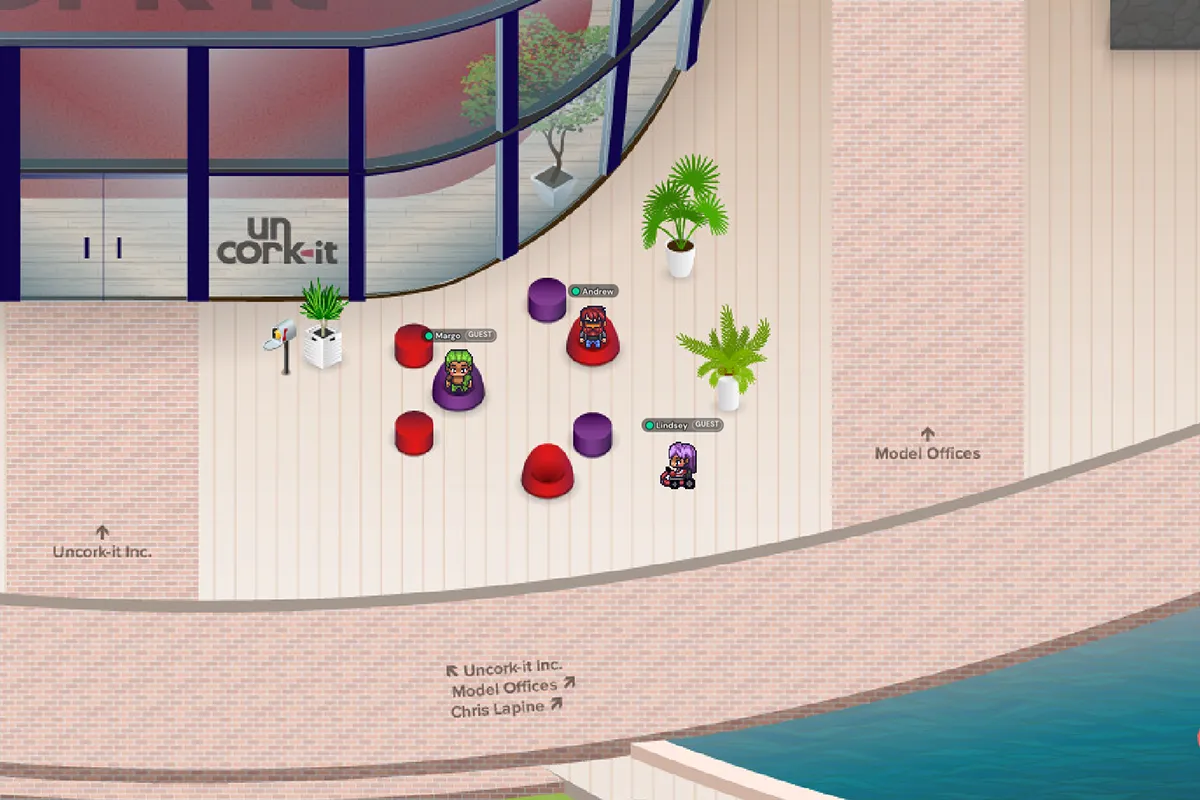 Co-working & incubator space
If you are a small team, with a small budget, but big dreams, a co-working or incubator space may be ideal for you. You can rent a seat in a shared office, workshop, or lab space and use the shared lobby, conference rooms, screening rooms, and social rooms. We change out some of the social rooms, so you may get go Karts one month and an escape room, soccer field, or other during other months.
Visit our coworking space.